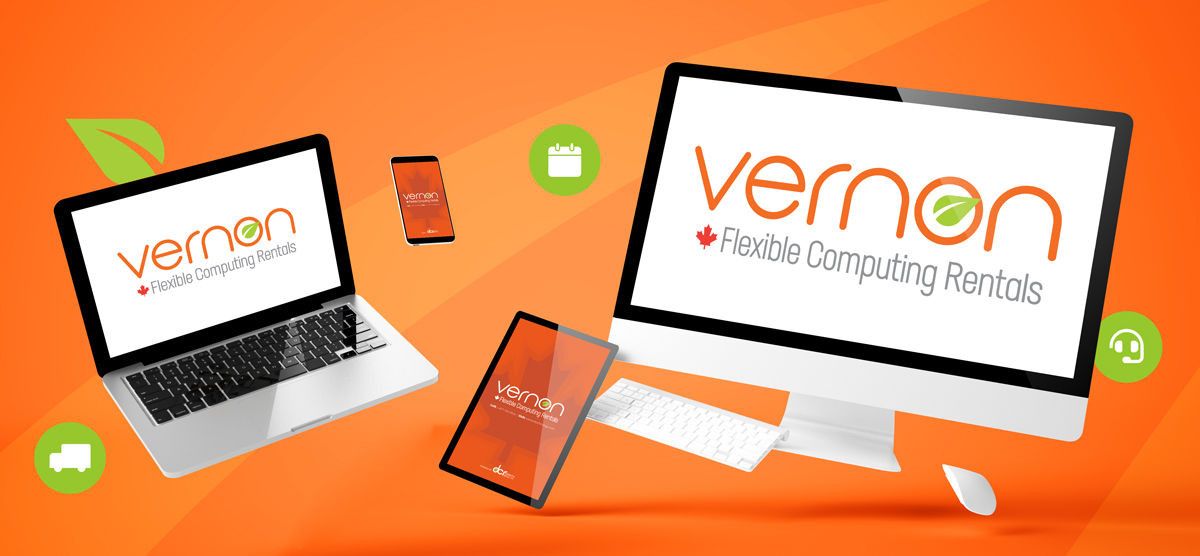 Vernon Technology Solutions, a division of DCR Systems Group Inc., is thrilled to unveil our company rebrand, including a redesigned logo, brand elements and a website refresh.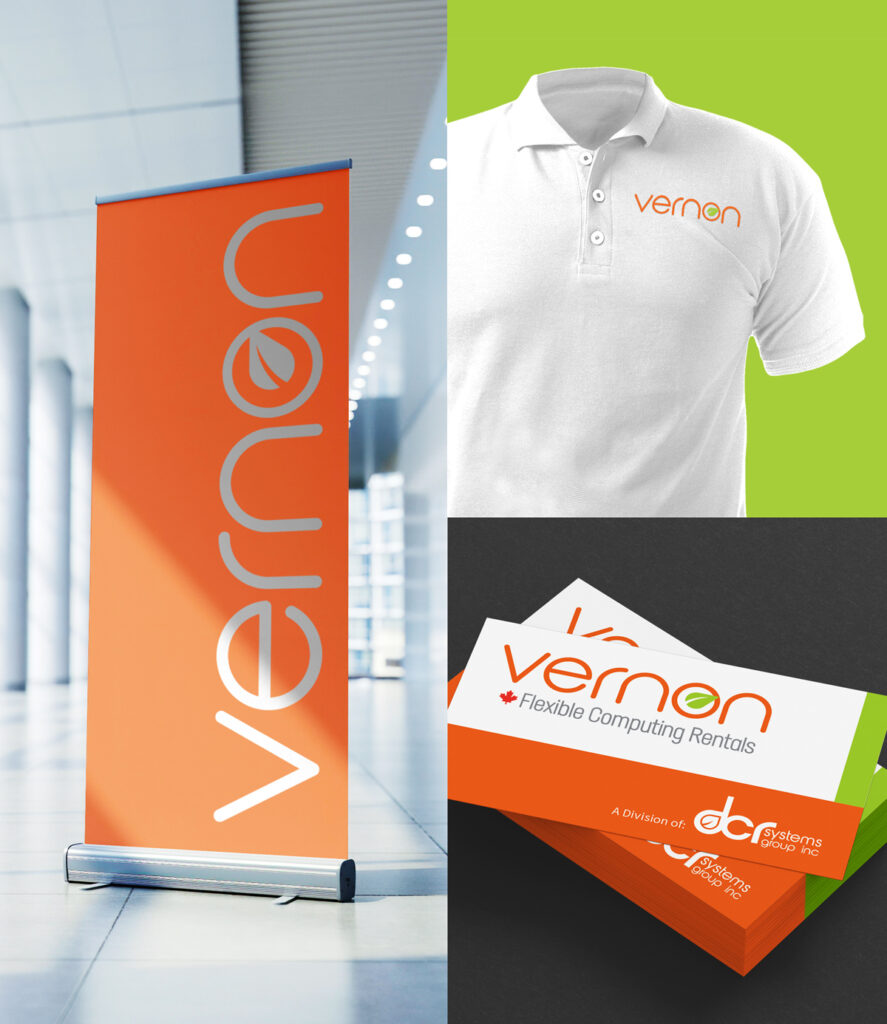 About the brand
The new brand bridges together Vernon Technology Solutions and our parent company, DCR Systems Group Inc. The brand reflects the joint synergistic and sustainable service offerings we provide to our clients. Vernon & DCR share a unified, service-driven goal to develop long-lasting partnerships by providing flexible, green rentals for remote work & learning requirements. This aligning mission is featured throughout the look and feel of the new brand.
Logo overview
Our new refreshed logo is an evolution that takes our core values to a new level. The logo features a lighter, slimmer typeface that reflects our nimble and flexible approach to rental solutions. We have maintained an open and round aesthetic, mirroring our staff's friendly and caring personality. As a part of the DCR family, we've adopted their bright and vibrant colour scheme as well as their commitment to environmental preservation and care. The inclusion of a leaf icon not only symbolizes our eco-friendly mission statement but also represents our desire to help our partners grow.
We're here to support you!
"New year new look. I am delighted to introduce our new brand," said Karen Chow, Business Development Manager, Vernon Technology Solutions. "Vernon is a flexible and economical computer rental company that provides services across Canada. Although we have a new look, we remain customer-focused and continue to customize our rental services to meet the needs of our clients."
"Every single person, be it in business, education or just our everyday lives, has had to adjust to the challenges brought on by the global pandemic. Vernon, typically renting technology to the event and education sector, pivoted our business and leveraged our parent company to meet the abrupt shuttering of the event industry," said Steve Byrne, VP of Business Development, DCR Systems Group Inc. "Our educational clients had quick access to tier one technology and our corporate clients managed Work from Home initiatives by having programs such as advanced shipping and seed stock available through our facilities. We are excited to launch our new brand and continue to support organizations with flexible computing rentals across Canada."
The new brand demonstrates Vernon's expert commitment to providing reliable and sustainable technology solutions to assist with all client's needs—ensuring organizations never skip a beat. We're here to support you!
We look forward to assisting your organization with your rental requirements and additional I.T. needs!
Explore and experience our new brand HERE and Start Renting Now!