Creating an impressive trade show booth is vital to attracting attendee attention in a sea of many booths at a trade show or event. A well planned and well executed booth will garner more foot traffic, grow brand awareness and increase event ROI. Interested?
Top Tips for Your Next Trade Show
Create Branding Visuals – Create strong brand visuals, banners, signage and surrounding decor elements to tie your brand together and give the feel you want potential customers to experience when surrounded by your brand. Branded giveaways like business cards, flyers or promotional giveaways are a sure way to tie it all together with cohesiveness.
Be Eye Catching – Use stunning visuals and bright colours (in accordance with your branding) to attract eyes more than a bleak design would. Use lighting to your advantage when highlighting certain elements or your key product.
Teach Something – Educate attendees on new products or latest discoveries relevant to their industry or interests. Creating an interactive and informative experience with tablets or engaging devices will make their time at your both memorable and valuable.
Hold a Contest – Create a contest for an easy way to increase attendee engagement at trade shows, gather contact information and spark excitement at your booth. With a creative giveaway, you will boost traffic to your booth, gather potential client information and in turn secure new leads.
Keep It Fun – Yes, people attend trade shows for business purposes, but that doesn't mean they should be bland or without some excitement! Add some entertainment value by hiring a great emcee or talent, creating one of a kind experiences or hosting a social after-tradeshow party for your attendees.
Ready to plan your next tradeshow or event? Click HERE to rent all of the technology elements you will need.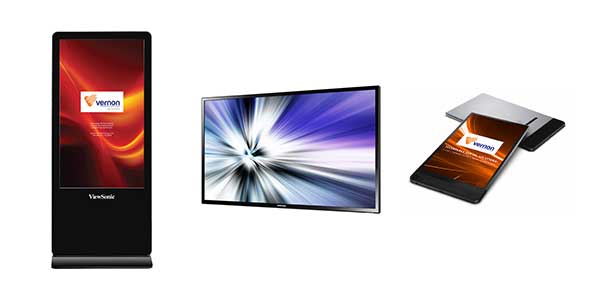 From large display screens, tablets, computers or charging stations – we've got you covered at Vernon Technology Solutions.