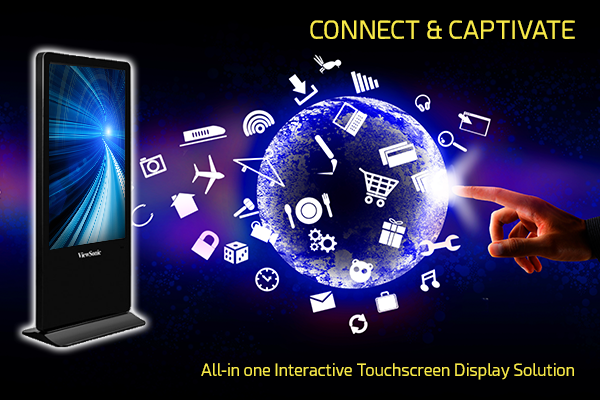 Interactivity is taking the market by storm. Users want the same experience they get from their mobile devices and tablets on their desktop and public venue displays. Research on natural human interface proves that touch is everywhere. Touch provides an instant and intuitive interface for users. It simplifies customer interactions and transactions. Users do not have to know how to use a computer and can simply touch the display to make selections. No keyboard is required, saving space and complexity.
Interactive AV
Interactive AV is any form of audiovisual equipment, which enables the user to interact with it in order to control or influence the content that they see.
Interactive AV has always been a key marketing element at malls, offices, museums, and events. Touch Screens are revolutionizing the way we operate and communicate. Interactive technology enables us to communicate and capture all of our content in real time. It empowers businesses through integrated technology to enhance their communication and interactions with their customers. It involves the use of hardware and software so that the interactive content does exactly what one desires it to do.
A leading trade association – InfoComm International, representing the audiovisual industry pointed that for four consecutive years significant growth was projected for the industry. The revenue for the surveyed North American companies was expected to grow by 40%, and by 10.7% for the European audiovisual companies, year-over-year. Therefore, indicating a heavy consumption of rich media content by customers.
The single biggest factor for this increase is the rise in demand for networked audiovisual products due to the integration of Audiovisual and IT technology. The leading markets for AV equipment in North America and Europe continue to be business/IT and education. Its applications are limitless ranging from presentations, boardroom, and conference room collaboration or as interactive information kiosks.
An Interactive touch screen connects to the PC, Laptop or Mac and displays the presentation on to a 55″, 65″, 70″, or 82″ LCD or LED panel.
Imagine how you could captivate your audience when you open applications, navigate the web, use the virtual keyboard to type information or annotate over the top of the displayed information.
Connect. Engage. Captivate.
Rent Large Format Touch Screen Displays and engage your Audience at your next event.
Event Registration
Floor Standing iPads Kiosks are perfect for Event Registration that reduces the wait time and helps in lead capture as well.
Way-finder & Event Schedule
Large Format Touch Screen displays can be used as a Way-finder and display Event Schedule, Speaker Details using Event Apps like eventMobi.
Contests & Surveys
Engage your Audience with interesting contests and interactive surveys on Touch Screen Kiosks to generate leads and get audience feedback.
Branding Opportunity
Stand out in the crowd at Tradeshows with Viewsonic E-Posters by showcasing your Apps, Brand Campaigns, Interactive Presentations and Video content.
We TECH Care
We at Vernon Technology understand the need for networked audiovisual equipment for all events or general marketing activity. We have a vast inventory of Large Format displays, Digital Signage and Interactive Kiosks to meet your requirements.
Vernon's Touch Screen displays are sure to brighten up your events and create a lasting impact of your brand on your visitors, prospects and customers. What's more, we at Vernon technology offer the best rates on rentals with flexible and customized rental plans. We even offer you the setup & logistical support you need across North America.
Please do contact us for further details.