When it comes to renting a computer, most think its use is best for events, trade shows, conferences, and training. But think again! A business computer rental can support your employees and organizational goals by increasing performance, productivity, sustainability, and cost savings. Not convinced? Read below for the benefits of a business computer rental.
Support for Your Employees
This device is an ideal option for employees who work from home or in person as it can be stationed anywhere, whether it be at home or in the office. In addition, a computer rental is great for businesses that hire temporary staff to assist with busy months or for employee training and testing purposes.
A computer rental offers valuable hardware advantages in comparison to a laptop rental. Computer rentals offer a larger workspace screen, proven to boost productivity and efficiency.
According to ViewSonic, research has indicated that increasing monitor size can improve productivity more than increasing computing speed. Larger screen space increases productivity by 30% – 50% and enables users to complete tasks up to 52% faster.
A business computer rental also has a larger internal storage drive, a full-size keyboard, are easy to repair and has a larger processor than laptops.
A business computer rental gives your visibility over your budget. You can conserve your spending, eliminate maintenance, save on software packages, and select from a variety of rental plans to suit your needs.
Go Green with a Business Computer Rental
Renting a computer is more environmentally responsible than purchasing it. After your rental period, you will return your device and it will be re-entered into the economic cycle—it will either be rented again or redeployed with Vernon & DCR's ITAD services.
Computer Rentals from Vernon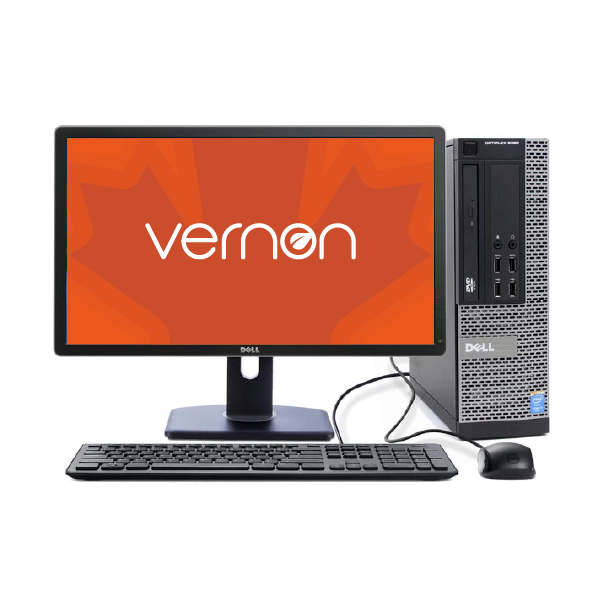 Your search for PC and desktop computers ends a Vernon. Our desktop computers are the perfect solution for your business, offering valuable, unmatched advantages.
Customized Options
Can be custom configured to meet your specific requirements.
Special Additions
Accessories – software, memory and hard drive upgrades can be loaded
Unrivalled Tech Support
Expert support to ensure uninterrupted functioning
At Vernon, we are committed to supporting your returning workforce with flexible computing rentals across Canada—including a business computer rental. With our large library of inventory, we can support your employees who work from home or in person with quick shipments, delivery, installation, and full-service tech support. Get a quote today!